Huvis (CEO Shin, You Dong, 079980) announced on the 19th that the company's specialty low-melting-point yarn Romela and the eco-friendly hollow fiber Polarfil were named respectively as a world's contemporary first-class product and the world's next-generation first-class product for 2021 by the Ministry of Trade, Industry and Energy (MOTIE) and the Korea Trade-Investment Promotion Agency (KOTRA). Huvis now has a total of 11 world's first class products, with 6 in the contemporary category and 5 in the next-generation category.

Every year, the MOTIE and the KOTRA identify and select products that are deemed as being competitive in the global market as global first-class products to help businesses improve their competitiveness and to facilitate their exports. World first-class products are divided into the 'world's contemporary first-class products' category ranked within the top 5 or estimated to account for no less than 5% in terms of market share and the 'world's next-generation first-class products,' which are deemed as being capable of joining the rank of world's first-class products in seven years to come given their marketability and growth potential.

Romela, which has been named as a world's contemporary first-class product, is a new material made by spinning specialty low-melting point polymer in a core & sheath configuration. As the core melts at a high temperature and the sheath at low temperature, only their surfaces melt at a specified temperature to provide bonding between fibers, allowing the yarn to easily fuse when heat-processed, which makes Romela an ideal solution for interior components, such as curtains or blinds where dimensional stability is required, and eco-friendly bonding applications for water treatment filters, air filters, and so on.

Polarfil, touted as a next-generation first-class product, is made from a mixture of polyester (PET) and corn-extracted PTT (Poly Trimethylene Terephthalate), which was spun using Huvis' proprietary technology into fiber with a hollow cross-section. As it contains warm air in the hollow cross-section, it features excellent heat retention performance, better softness, and bulkiness, which differentiates it from conventional fiber materials, as well as unprecedented resilience. It is post-processed into micro balls to replace goose down or duck down. It has also been 'vegan-certified' by the Korea Agency of Vegan Certification and Services last year as no raw materials containing animal ingredients were used throughout the entire manufacturing process.

R&D Center Director Park, Seong Yoon at Huvis said, "Romela and Polarfil being named as world first-class products this year proves once again the technological excellence and global competitiveness of materials developed by Huvis to date and how they are differentiated by their eco-friendliness and high functionality. Huvis vows to become a globally differentiated material supplier by bolstering its R&D prowess for eco-friendly materials and by diversifying their applications."

The low-melting-point bonding fiber LMF of Huvis, which features the world's highest market share among its kinds, has been named as a world first-class product for 20 consecutive years since it was named for the first time in 2001. Huvis also has many other world first-class products, including Purever, fiber for hygienic applications and PPS fiber for industrial back filters, etc. (End)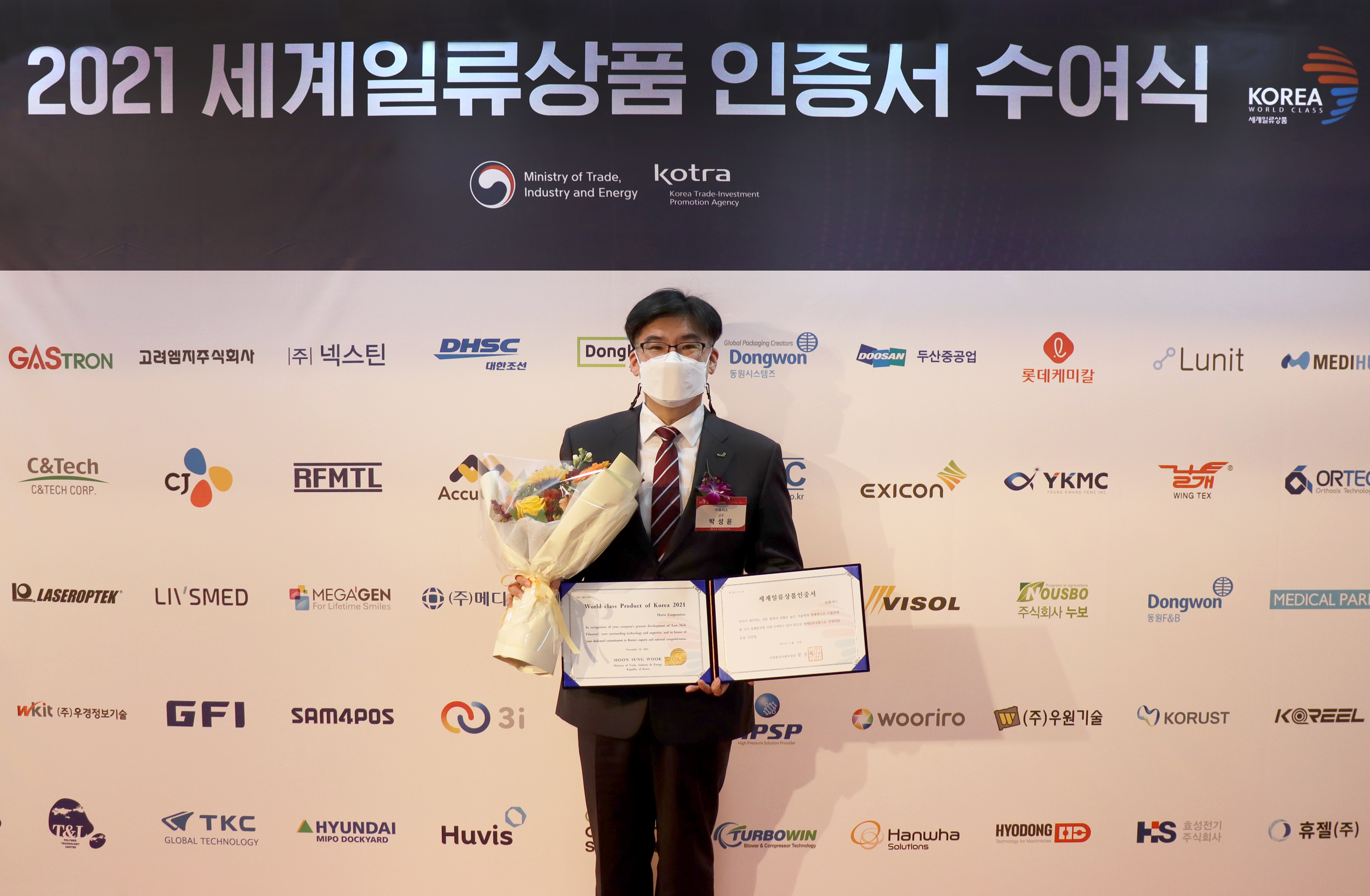 [Photo] Huvis R&D Center Director Park, Seong Yoon at the 2021 World First Class Products Certification Ceremony.