Huvis' biodegradable polyester yarn, ecoen, will be made into bags for the first time ever in Korea.
Specializing in chemical materials, Huvis (CEO Shin, You Dong, 079980) and designer brand March International (CEO Heo, Ji Sook) signed a partnership agreement on the 16th to develop a new product using the biodegradable material, ecoen, which was developed by Huvis.

The product to be developed is a pleated bag from Joseph & Stacey, March International's flagship brand. The knitted bag will have pleats and use polyester as the primary material.
While working on products using a variety of materials including leather and fabric, Joseph & Stacey developed a bag made of yarn, which had come from Huvis recycled from PET bottles (Ecoever), after which March International decided to forge a partnership agreement with Huvis to further expand the scope to products made of biodegradable yarn. The material for the bag will be fully developed by the yearend with the finished product set to be released early next year.

ecoen, a biodegradable polyester fiber developed for the first time ever in Korea, is a polyester material whose physical property is transformed through the copolymerization of easily biodegradable bio plastic with conventional polyester. It features durability/thermal resistance on par with conventional polyester and is biodegradable when reclaimed underground.

As products made of ecoen usually have service lives of around 5 to 10 years long, they are not easily worn out or decomposed when left in the closet. They can be also washed in the same way as non-biodegradable products. If reclaimed and maintained under specified temperature and humidity conditions, they are also biodegradable in three years. ecoen's biodegradability was registered with the ISO (International Standard Organization) as verified by FITI Testing & Research Institute using the world's first biodegradable fiber evaluation method. (ISO21701)

The two companies plan to develop more products using various eco-friendly materials in the wake of the partnership agreement. Products using 'ecoen-R,' biodegradable fiber recycled from PET bottles, are also under discussion.

CEO Heo, Ji Sook of March International commented, "Fashion brands must also incorporate eco-friendliness in their products for the sake of the generations to come. Joseph & Stacey has been working on the 'BE Lovers' project under the slogan of 'Love Us, Love Earth' for five years now to ensure the co-existence between humankind and the environment, and it is really meaningful that we are now collaborating with a like-minded material supplier from material development to product planning," and added, "We plan to feature a greater range of eco-friendly products in the market next year."

Director Kim, Bong Sup at Huvis said, "Even if excellent materials are developed by material suppliers, they are bound to disappear into oblivion unless welcomed by the market. We are really pleased to have such an opportunity to collaborate with an industry-leading fashion brand," adding further, "We will develop more eco-friendly materials moving forward to take initiative in protecting the environment and humanity."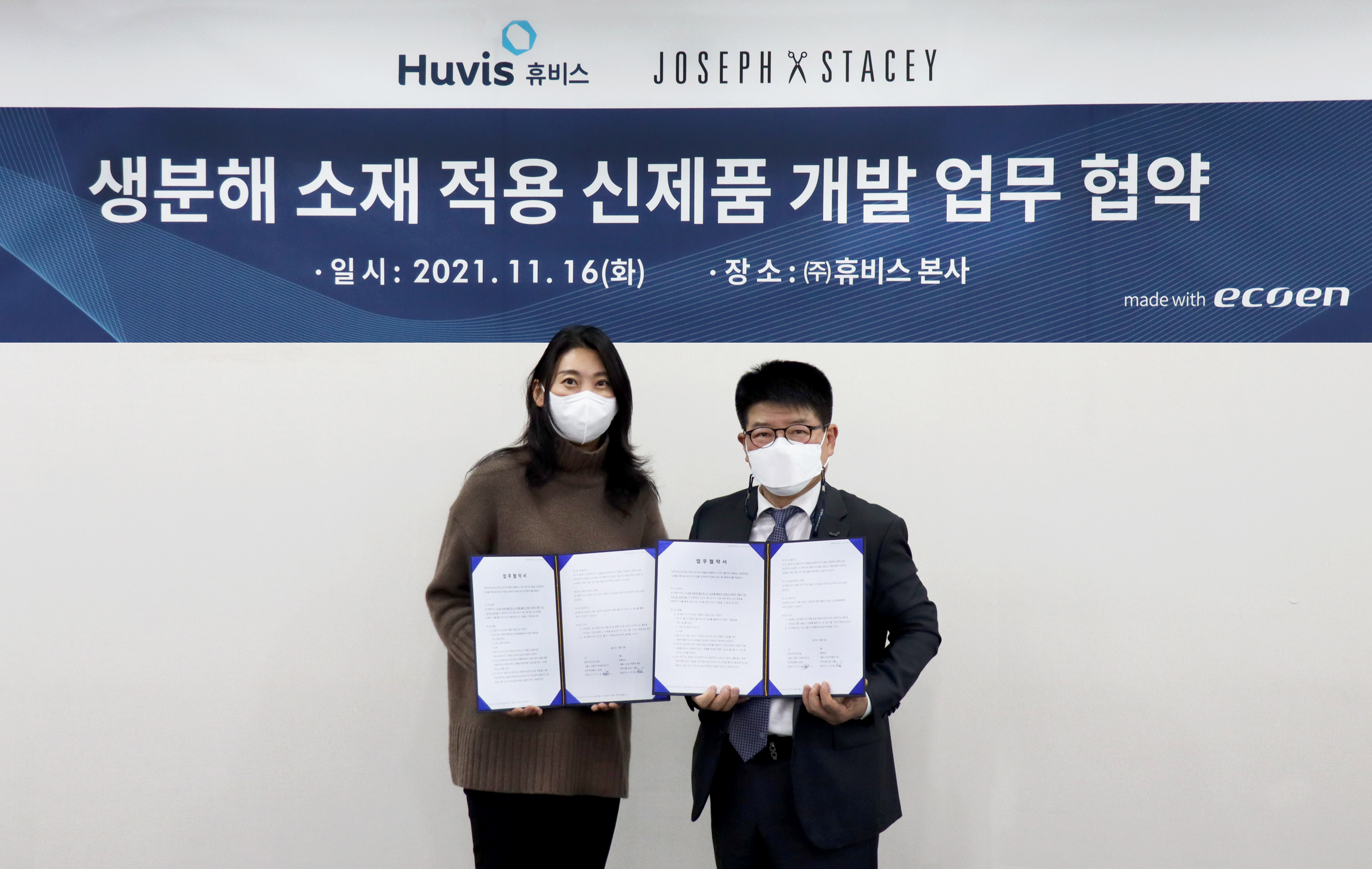 [Photo] After signing the partnership agreement, Director Kim, Bong Sup of Yarn Business Division of Huvis (right)
and CEO Heo, Ji Sook of March International in front of a banner made of biodegradable fiber, ecoen.