Huvis will apply its cool touch fiber to summer bedding.
People feel cool when the heat escapes their body all at once, and as DURARON Cool developed by Huvis has heat conductivity, it therefore also has a greater cool touch effect than cotton, bamboo, or rayon.

Cool touch refers to the property that makes the fabric feel cool when being touched, which is caused by convective heat transfer. Cool touch is measured by the Qmax value, and with △T=10℃ as the basis, the fiber has cool touch if the Qmax value is 0.1 or higher. Huvis DURARON Cool has a value of 0.16, which is the highest cool touch among similar products.
Qmax values vary depending on the temperature difference measured, which is why it is necessary to check the reference value. If the temperature difference is 20℃, the Qmax value of DURARON Cool is 0.32.

Moreover, DURARON Cool is so lightweight with such a low density that it floats on water, and its hydrophobic property results in excellent moisture and sweat discharge. Bedding made out of this material also dries quickly after being washed. There is no polarity in terms of structure, and thus the material is highly resistant to contamination. It is also strong, with high durability even against friction.

When applied to bedding, such as a thin padding duvet, mattress cover, printed duvet, etc., the material gives a cool and pleasant feel, and thus it can be used for various purposes, such as for sports bras or innerwear as well. Currently, it is developed in 400d and 200d, which is suitable for bedding, produced as 300 filaments with high multi-filament yarns. Dyed yarn, which makes use of a specialized yarn dyeing technique, is supplied to expand the pattern applicability of bedding.

"As people stay at home longer due to COVID-19, there is a growing interest in hygiene as well as bedding. As such, DURARON Cool with its excellent cool touch and hygiene will be extremely popular for summer bedding," said Huvis Yarn Division vice president Bong Seob Kim.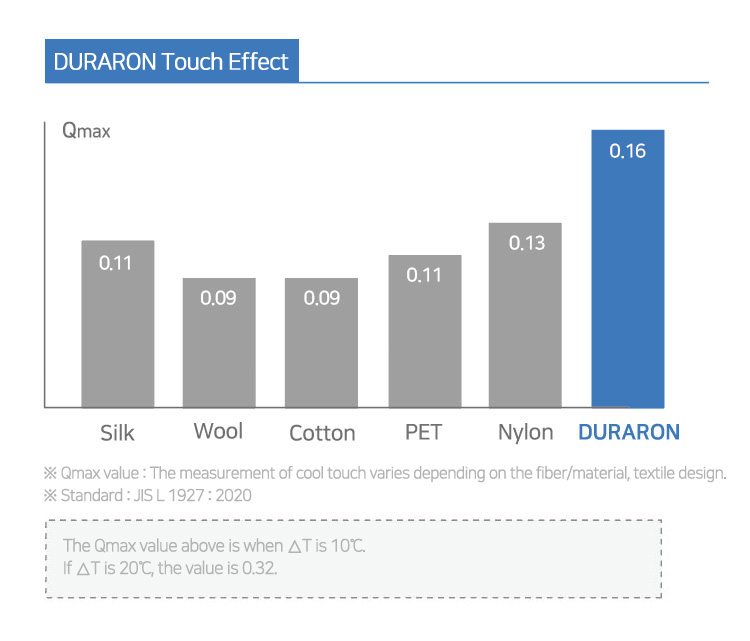 ▲ FITI Testing & Research Institute, 2020