On the 4th, Huvis (CEO Shin, You Dong, 079980), specializing in chemical and fiber materials, announced that it held its Kick-Off Ceremony for 2021 in a non-face-to-face manner. With COVID-19 having made face-to-face events no longer viable, the company replaced its annual Kick-Off Ceremony with an event where its employees watched video in their respective seats.

The Kick-Off Ceremony began with Huvis News for 2020, which looked back on the past year, and Huvis CEO's New Year's address.
Huvis CEO Shin, You Dong stated in his New Year's address, "We managed to achieve a lot of things in the past year despite the unforeseen COVID-19 crisis. We successfully completed the Jeonju-Ulsan business site integration project, and we also started commercial production at our overseas business sites in the U.S. and China. Aside from this, we also turned the crisis into an opportunity by proactively responding to the subsequent increase in demand for hygienic and health materials."

He went on to present Huvis's business strategy for 2021 and emphasized innovation in the way of working.
As the demand for eco-friendliness is accelerating, the company's core strategy is to further update its product portfolio by converting it into an eco-friendly one. In addition, the company also plans to pioneer new markets by more actively operating in-house ventures and expanding its investments in the creation of future food.

Huvis has carried out a company-wide reorganization so that it can concentrate its efforts on eco-friendly- and high-functionality-centered business.
To strengthen its organizational power, the company has divided its business division into the Green Fiber division focused on eco-friendly products and the Performance Fiber division focused on differentiated products. This move aims to expand the company's leadership of the international markets related to its main areas of business by going beyond its existing linear, product-oriented organizational structure and strengthening its technological and business capabilities with a focus on customers and usages. The staff department also reorganized its existing financial support office into a management support office with strengthened marketing and planning power and established a Chinese business development team in the strategic planning office to provide added support to the company's pursuit of new projects.

The Kick-Off Ceremony held on the day ended with a "2020 Huvis People of the Year" awards ceremony and self-introduction by new employees who have joined Huvis in 2021.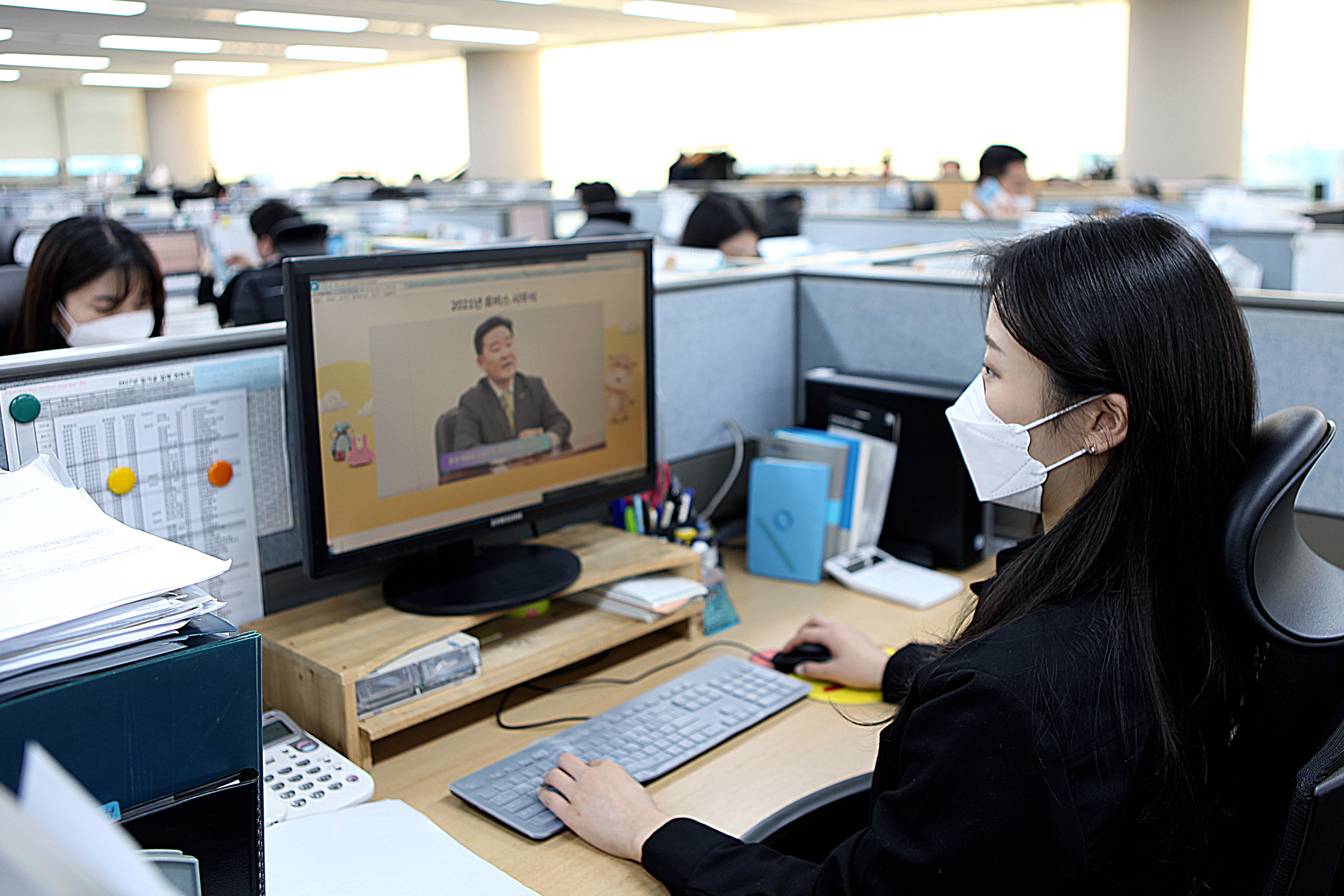 ▲ Huvis employees are watching a video at the Huvis's non-face-to-face Kick-Off Ceremony, which took place on January 4th.