Huvis (CEO Shin Yoo-dong, 079980) announced on December 8 that its differentiated long fiber EBBR and Trigrid, a geogrid used as reinforcement in civil engineering, have been selected as next generation world-class products in the 2020 World-Class Product Selection conducted by the Ministry of Trade, Industry and Energy and KOTRA. This marks the eleventh world-class products awards for Huvis, with five world-class products and six next generation world-class products.

World-class products are selected by the Ministry of Trade, Industry and Energy and KOTRA to enhance the competitiveness of companies and promote exports by discovering and fostering competitive products in the global market every year. World-class products are divided into 'current world-class products' that are either within the top five brands with global market shares or with more than 5% of the global market share, and 'next generation first-class products' that have the potential to rank among the top five within the next seven years.

EBBR, which was awarded the next generation first-class product this year, is a polyester, long fiber material, with features that feel soft to the touch with an acetate-like gloss. The differentiated technology of shaping the cross section of acetate in order to achieve such results has been highly praised to win the award. It is processed into a fabric and applied to women's suits and blouses, and is sold to global SPA brands such as Zara and Mango.

Geogrids are materials that are used to reinforce the ground in civil works to secure the stability of the reinforced slopes or soil retaining wall structures and prevent the settling of soft ground. 'Trigrid', the geogrid brand made by Huvis, consists of interlocking top and bottom three-dimensional cross structures, and is widely used in various construction sites due to its excellent constructability, stability, and economic viability. It also has obtained worldwide patents, CE Mark required for EU export, and PWRC Certification in Japan. Having started with domestic sales in 2007, it is now focusing on expanding into overseas markets such as Japan and Europe.

Park Seong-yoon, director of Huvis R&D Center, said, "The domestic material technology has risen to a level comparable to that of global material companies," and added, "We will make more efforts to leap forward as a producer of world-class products in the future."

Huvis currently possesses several world-class products, including hollow fiber, PPS super fiber, fiber for sanitary materials, as well as LMF (low melting fiber) which has the No. 1 global market share.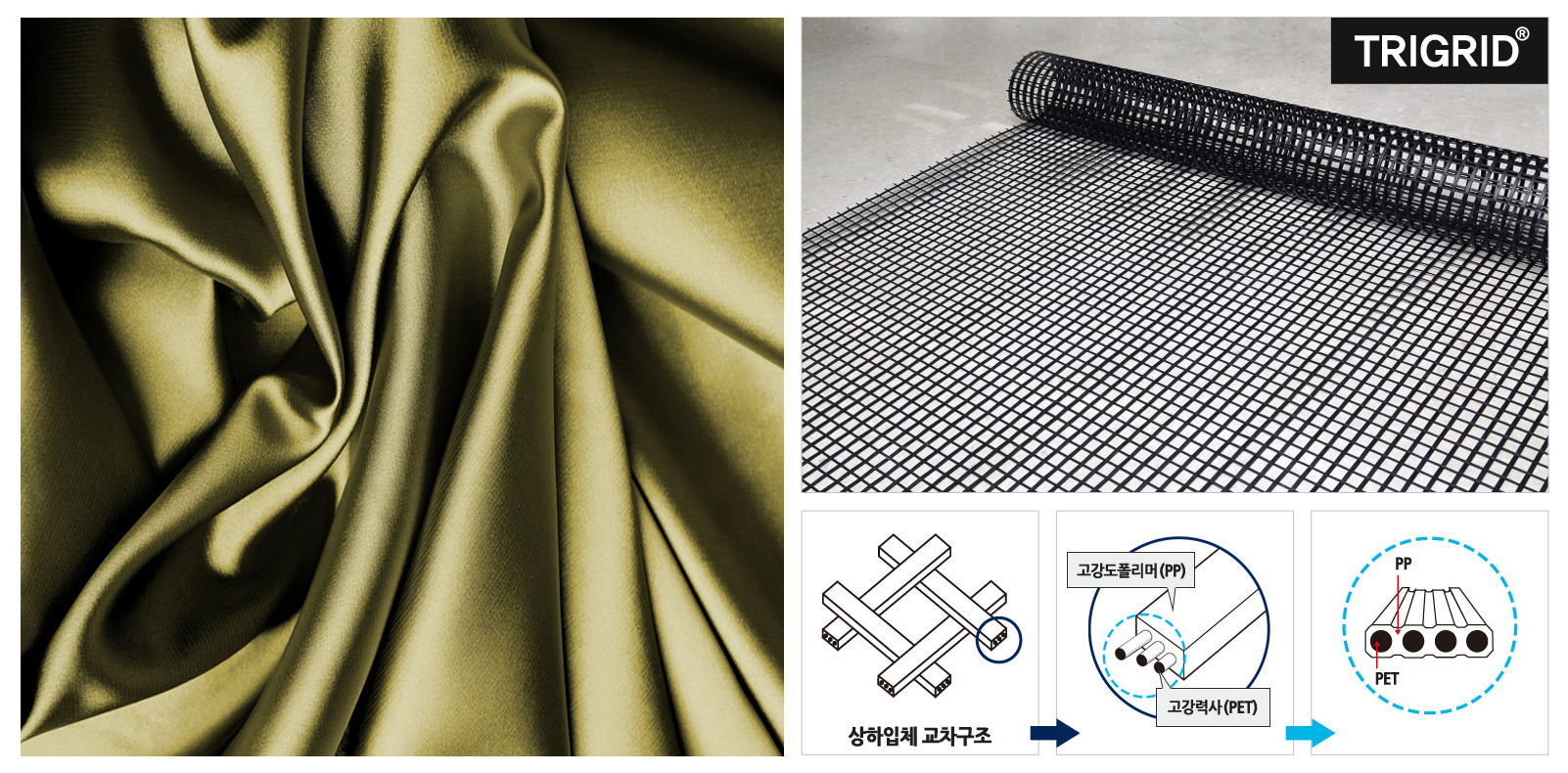 ▲ (Left) EBBR fabric surface
▲ (Right) Trigrid